Year in Review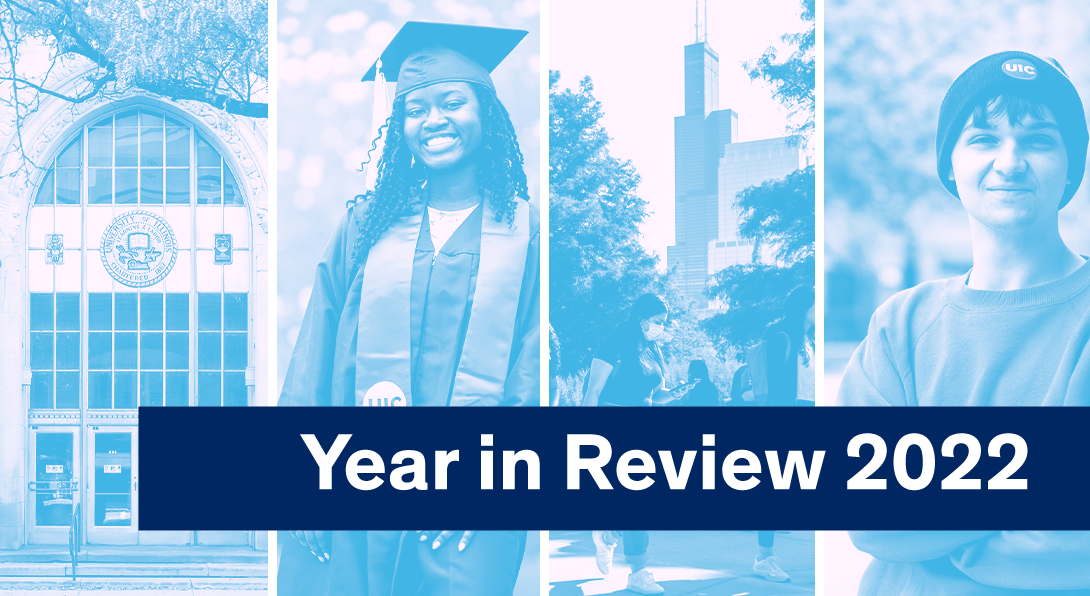 In 2022, the UIC Alumni Association alumni board and team worked hard to deliver programs to our 323,000 alumni to provide connections, networking opportunities and a sense of pride in our community. We aspire to serve as a platform for all UIC alumni to engage with our vibrant campus community and to help propel the university toward its mission. Your involvement is integral to UIC students' success, research and community service. Thank you to all who have served on the board, mentored students, volunteered, networked or even shared a bit of UIC pride along the way.
Scroll down for a summary of all we've accomplished together. Send your ideas, feedback or desire to get involved at uicalumni@uic.edu.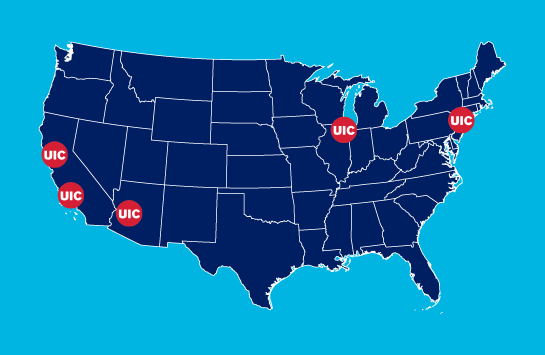 Top areas where UIC alumni live:
Chicago, Naperville, Elgin: 243,724
Los Angeles, Long Beach, Anaheim: 4,835
India: 3,871*
New York, Newark, Jersey City: 3,766
China: 3,498*
Phoenix, Mesa, Scottsdale: 3,498
San Francisco, Oakland, Hayward: 2,822
* International locations not shown on map.
323,000 Number of alumni.

$ 460 M Our sponsored research funding is our highest ever.

$ 803 M IGNITE: the Campaign for UIC was the largest in UIC's history.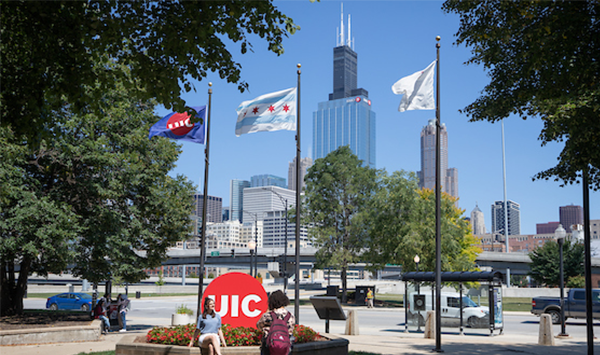 Rose four spots to tie for 42nd Best College in the 2022-2023 U.S. News & World Report rankings.
Top 30 in ethnic and economic diversity and No. 11 for Social Mobility by U.S. News and World Report 2022 Best Colleges.
Undergraduate nursing program moved to ninth in the nation while computer science, engineering and business each earned places among the nation's top 100 undergraduate academic programs.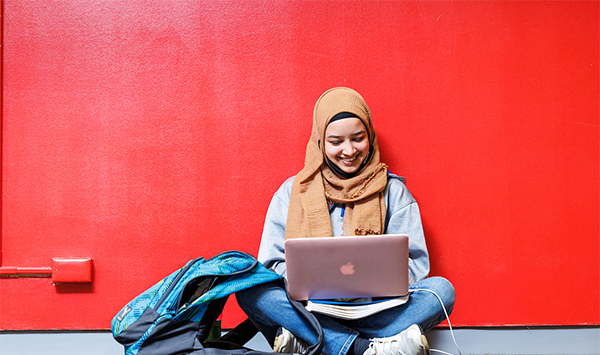 1 in 13 college degree holders in Cook County is a UIC graduate.
1 in 3 Illinois doctors were trained at UIC.
1 in 11 Chicago Public Schools principals were prepared for their position at UIC College of Education.
#1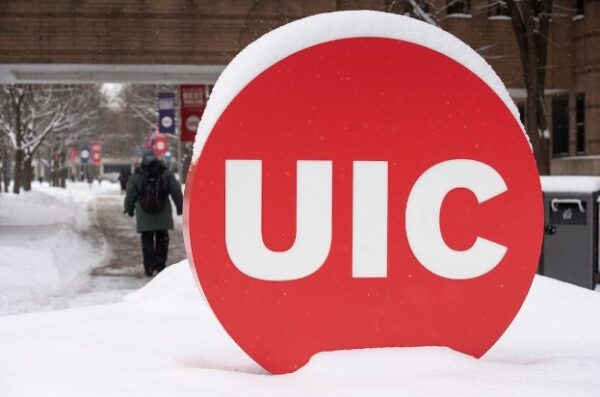 UIC is No. 1 in the Midwest for the diversity of our students and faculty according to the Wall Street Journal/Times Higher Education student rankings.
#2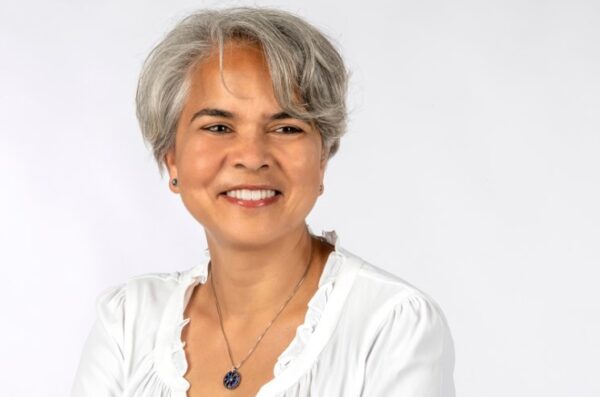 Marie Lynn Miranda has been named chancellor of UIC and a vice president of the University of Illinois System. Join us in welcoming her to UIC!
#3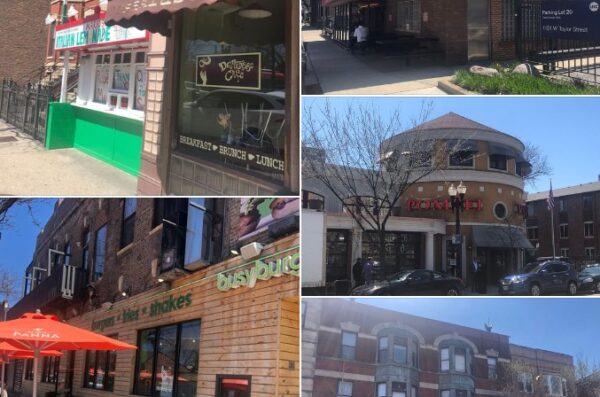 Taylor Street is home to plenty of food options for the #UIC community. What are some of your faves?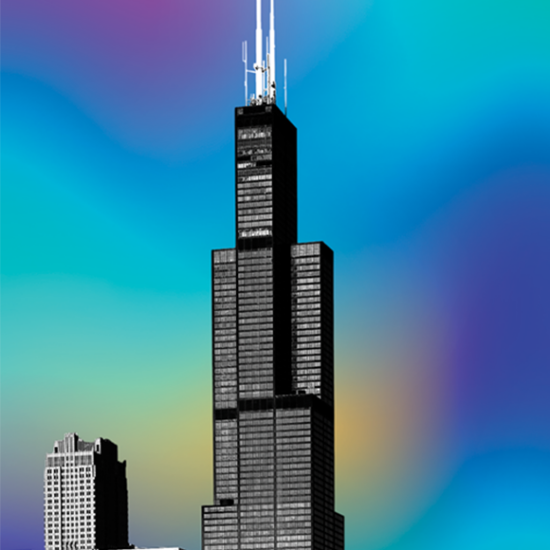 We proudly publish two print and digital issues of UIC Magazine every year. The magazine highlights alumni and features stories about UIC's place in the issues, trends and solutions impacting our local communities, the people of our city and state and the nation's and globe's populations. Want to receive a digital copy of UIC Magazine? Update your info here.
We also email nine alumni eNewletters each year to show alumni the many reasons they should be proud of their UIC degree. From student and faculty accomplishments to research breakthroughs and university news, they show all UIC is doing to uplift communities and redefine urban public education. To make sure you receive it, update your information here and read the newsletter here.
Read our magazine
Alumni Admissions Program
 
Our exceptional Alumni Admissions volunteers contacted 4,168 admitted students between March and April 2022. More than 1,180 of the students contacted committed to attending UIC in fall 2022, a 480% increase from 2021. Become an Alumni Admissions volunteer here.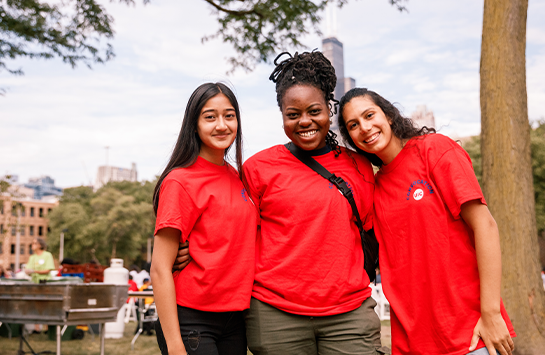 Convocation and New Student Welcome
The UICAA welcomed UIC's newest students at Convocation 2022. We presented welcome messages recorded by Adrian Villarreal BA '17, MEd '21, member of the Student & Recent Alumni Engagement Committee, and Gabriela (Arroyo) Iniguez BS '19 and distributed branded frisbees representing how fast their time will fly by at UIC. The videos, one in English and the other in Spanish, provided messages of support, pride and excitement for UIC's newest future alumni.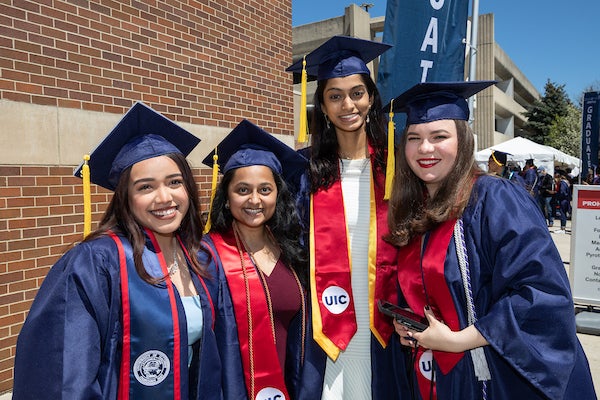 Graduating Student Programs
In 2022, the UICAA welcomed UIC's newest graduates to the alumni association through a variety of print and digital marketing efforts in addition to a presence at live events. At commencement, the UICAA Board president and president-elect addressed graduates, and they each received a special UIC pin on their chair as a gift. An alumni welcome letter accompanied their diplomas, and they received an official welcome email from the executive director of the UICAA.
UIC Connected
 
More than 2,100 alumni and 1,400 students are networking on UIC Connected, a virtual network exclusive to the UIC community. UIC Connected offers our community a place for mentorship, networking and career growth. Log in or join now.
Alumni Exchange
Between July 2021 and June 2022, more than 3,200 people registered for 24 Alumni Exchange programs presented in partnership with colleges and departments across the university. The UICAA Alumni Exchange is a series of virtual events that brings news, knowledge and entertainment to help alumni learn, grow, explore, connect and even escape from the everyday. To join us for upcoming programs and watch videos of more than 80 past presentations, visit this page.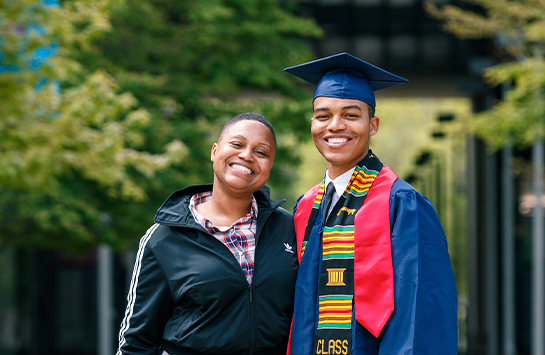 Alumni Affinity Networks
Umoja: Black Legacy Alumni Coalition met monthly throughout the year. The group supported Black History Month by attending events and participating in the "Beyond 28 Days" podcast. Umoja also recruited panelists for the African American Academic Network's monthly panel series for current students.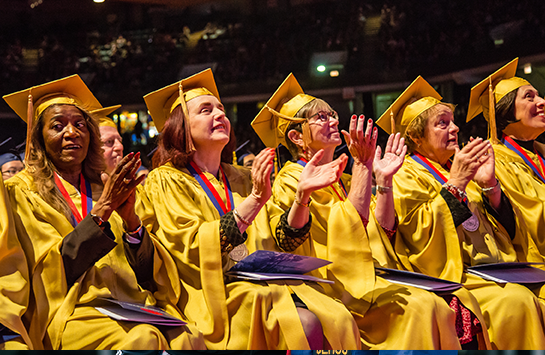 Golden Grads
In December 2022, UIC continued its tradition of honoring Golden Graduates, alumni celebrating 50 years since graduating. The Classes of 1970, 1971 and 1972 were invited back to campus to participate in the December Commencement ceremony and celebrate together at the Golden Graduates reception. The Class of 1972 was honored through a virtual gathering featuring a walk down memory lane and a special performance by UIC's student acapella group, Downtown Voices. See photos from the event.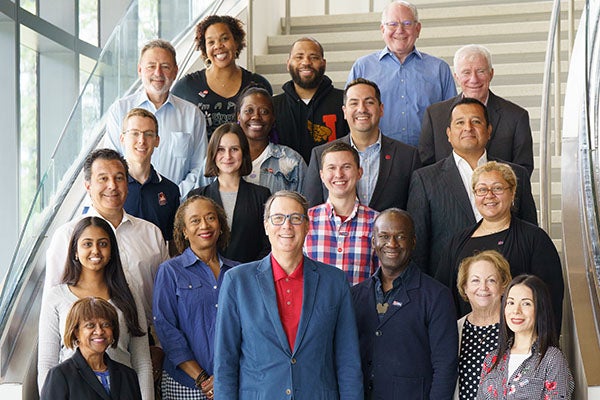 The UICAA Board was established in the fall 2020 to advise and support meaningful alumni engagement that connects UIC alumni to one another and the university. Sixty-six alumni volunteer leaders on the board help support student success, encourage connections among alumni and promote advocacy that drives forward the mission of UIC. Learn more or volunteer.
New Board Committee
On June 4, 2022, the board adopted a new committee, Alumni Loyalty and Benefits. This committee, chaired by John Ochoa BArch '78, will advise on new alumni loyalty programs, benefits and offerings as well as review the value of benefits currently offered to alumni.
Throughout the year, members of all of our committees dedicated approximately 1,400 volunteer hours to advancing the mission of the UICAA. Thank you for your service!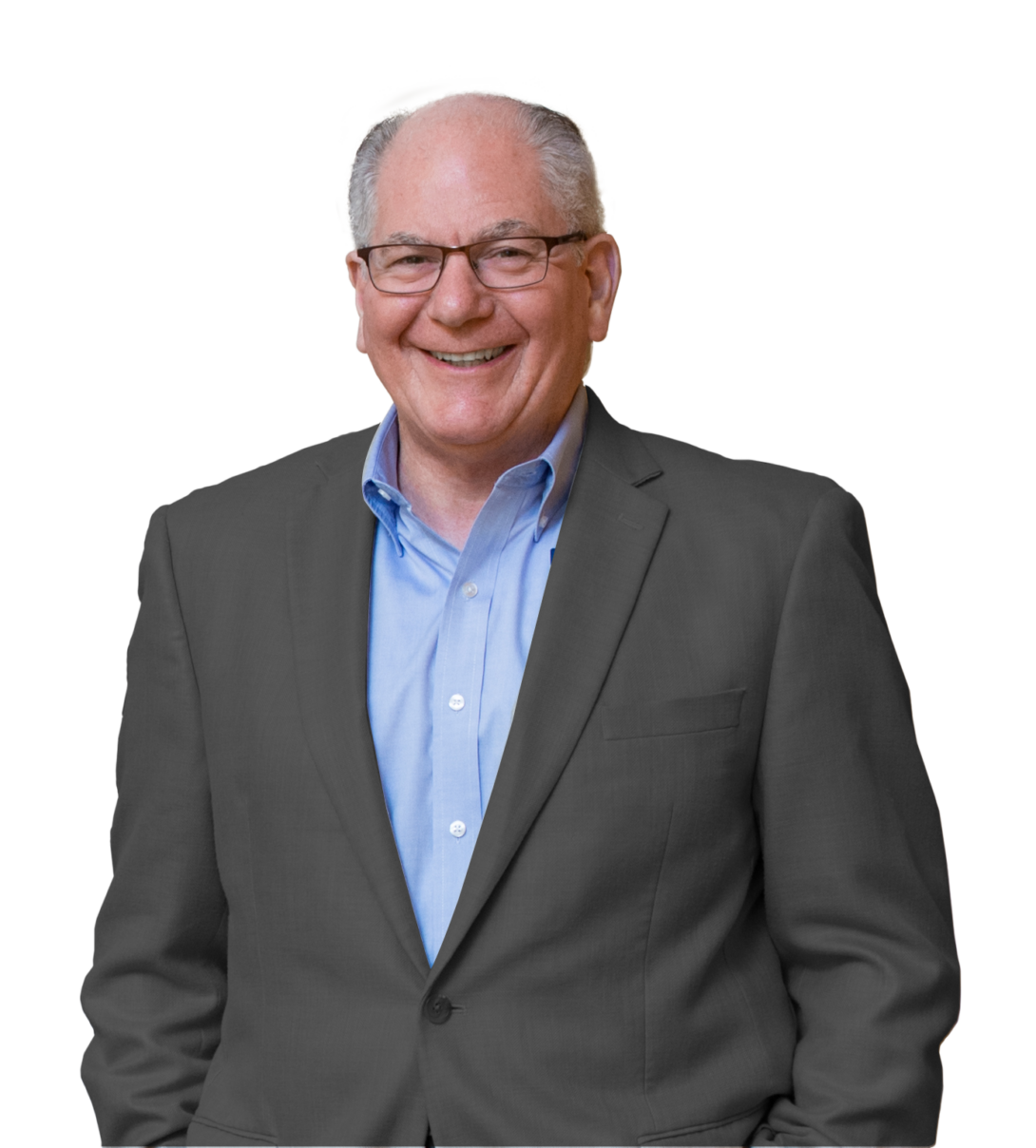 President Edward (Ed) Cohen
BS '75
Ed Cohen assumed the role of Alumni Board President on July 1, 2022. In this role, he works with the Alumni Board to increase alumni engagement and advance the mission of the UICAA and UIC itself. He is one of the founding members of the UIC Alumni Association Board and has been an active volunteer since graduating from UIC, participating in the UIC College of Pharmacy Alumni Board, Alumni Engagement Advisors, Campus Alumni Advisory Board, University of Illinois Alumni Association (UIAA) Board of Directors and the UIAA Board of Operations. In 2002, Cohen was named the Pharmacy Alumnus of the Year by the College of Pharmacy.
Cohen earned his BS in pharmacy from UIC in 1975 and his PharmD from Midwestern University College of Pharmacy in 2000. He has more than 40 years of experience in the pharmaceutical industry. He recently retired from his role as executive vice president, pharmacy advocacy, at Michael J. Hennessy Associates, Inc., where he worked with pharmacy academia and community pharmacies to improve patient care, quality and service.
Prior to this role, he worked at Walgreens for more than 10 years in varying roles including senior director, clinical solutions and senior manager of immunizations, clinical services and immunization research. Before joining the corporate sector, Cohen owned an independent pharmacy for many years.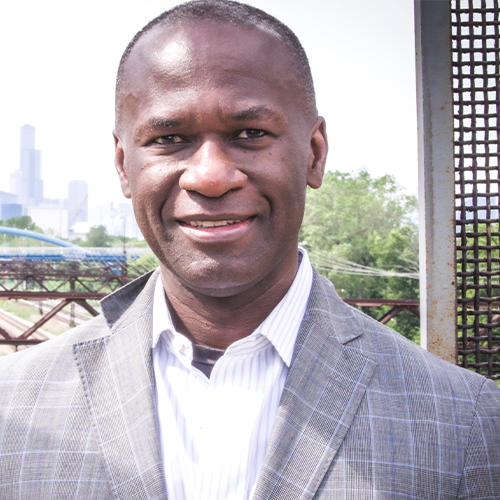 President-Elect Kerl LaJeune
BArch, Design '92 and BArch, Structure '92
Kerl LaJeune assumed the role of president-elect of the Alumni Board on July 1, 2022, in recognition of his deep experience as a volunteer at UIC and his distinguished professional career. LaJeune is both a founding member of the UIC Alumni Association and a recent chair of the Awards and Nominations committee. His volunteer history at UIC also includes roles with the CADA A3 (Architecture) Alumni Board, UIC Alumni Engagement Advisors, Campus Alumni Advisory Board, University of Illinois Board of Directors, UIAA Awards and Recognition Committee and UIAA Board of Operations.
LaJeune has more than 30 years of experience in project design, project management and creativity at leading architecture firms in Chicago. He serves as the director of planning and design at the Public Building Commission of Chicago. In this role, he oversees new and renovated projects.
Architecture Magazine recognized LaJeune as an emerging architect for his project design excellence. He has experience in a broad spectrum of projects and industries, including higher education, institutional/commercial, clubhouses/arts and recreational, multifamily residential and custom housing, master planning, feasibility studies and corporate interiors. Many of his projects have won distinguished awards.
He has taught design and technology for a combined 13 years at the UIC School of Architecture, Illinois Institute of Technology and Archeworks.
Over the years, LaJeune's active involvements and volunteerism have stretched from community-based organizations to nonprofit groups, student enrichment with mentoring and other activities linked to professional practice. His yearly participation as a head design juror and mentor for the Richard Newhouse Design Competition for high school students, with the Chicago Architecture Foundation (CAF), remains one of the endearing highlights of his professional career.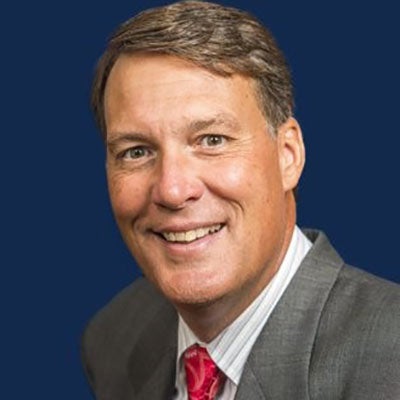 Thank You, Immediate Past President Bill Merchantz
BS '79
Bill Merchantz served as founding chair of the UICAA and chair of the Alumni Board from 2017 to June 30, 2022. He assumed the role of immediate past president effective July 1, 2022, and will continue to serve the board and association in an advisory capacity. The Alumni Board honored Merchantz at its meeting on June 4, 2022, thanking him for his service, dedication and many contributions to the UIC community.