UICAA Year in Review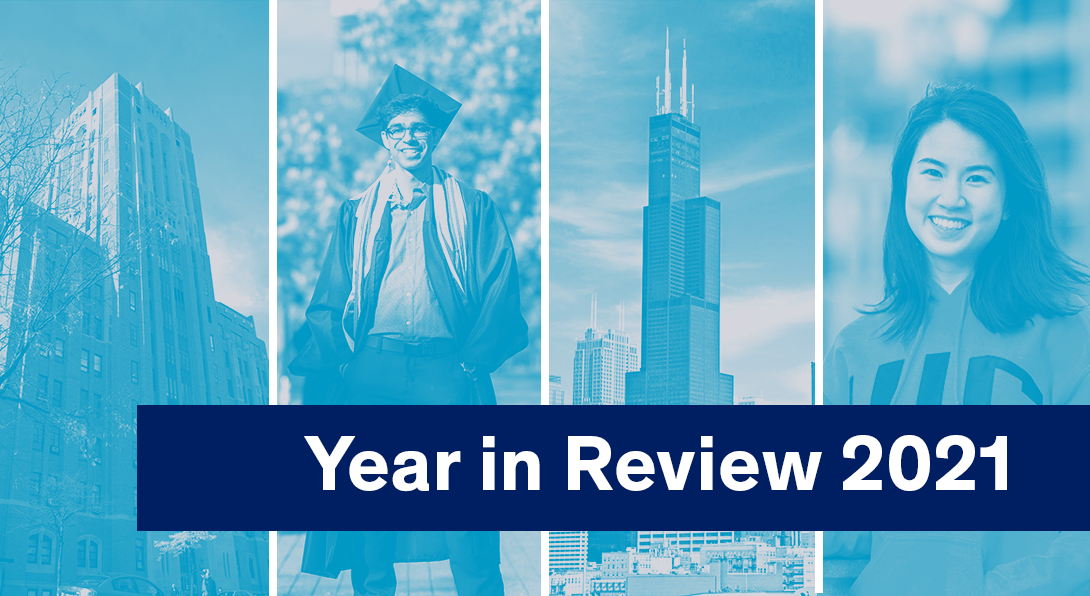 Your UIC Alumni Association (UICAA) works to provide programming and connections to our 319,000 alumni around the world. Led by the UICAA Board of more than 60 volunteers, the UICAA is a portal for all alumni to engage with the UIC community and each other.
Scroll down for a summary of all we've accomplished together and if you have ideas, feedback or would like to be involved, reach us at uicalumni@uic.edu.
34,199 We broke our enrollment record for the seventh consecutive year.

$ 446 M Our sponsored research funding is our highest ever.

$ 40 M Single largest gift in UIC history from philanthropist MacKenzie Scott. Her gift impacts internship opportunities, food security and scholarships for student success.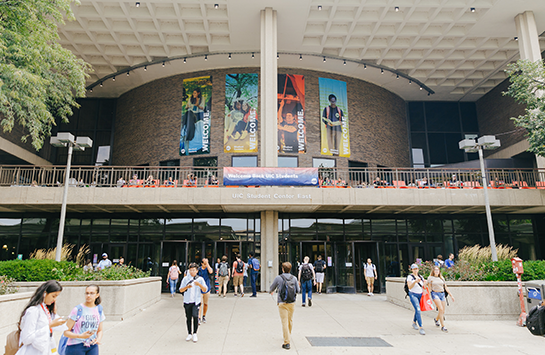 Top 25 Public University by Wall Street Journal and Times Higher Education.
Top 30 Ethnically Diverse and Economically Diverse and No. 10 for Social Mobility by U.S. News and World Report 2021 Best Colleges.
Top 10 Best Value colleges in the nation by Wall Street Journal and Times Higher Education.
#1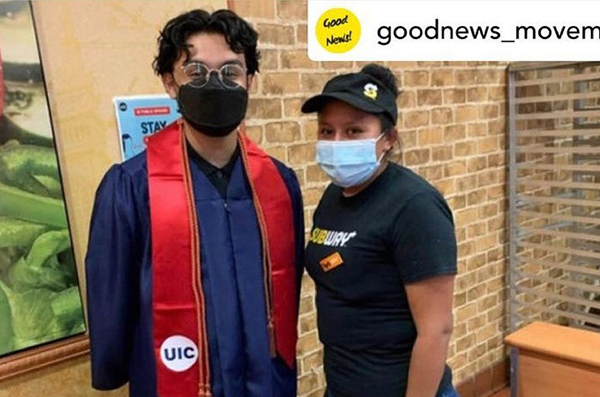 At graduation #UIC alumnus returned to the Subway to thank and take a picture with the woman who helped him out during his student days.
#2
#UIC sweethearts Marc DeMory and Amani Zara got engaged on campus at the very bench where they met seven years ago. Congrats!
#3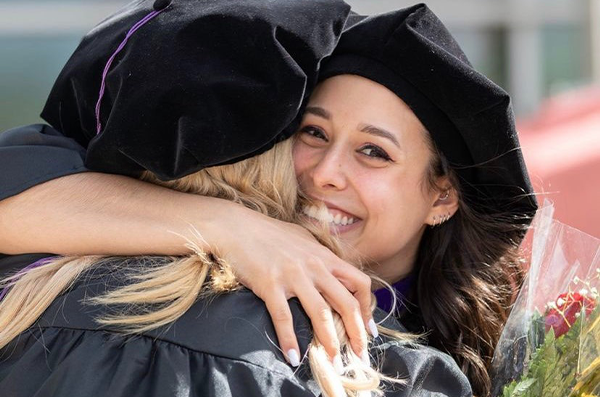 Last week, thousands of 2020 and 2021 #UIC grads visited campus for an in-person graduation experience. Congratulations, graduates!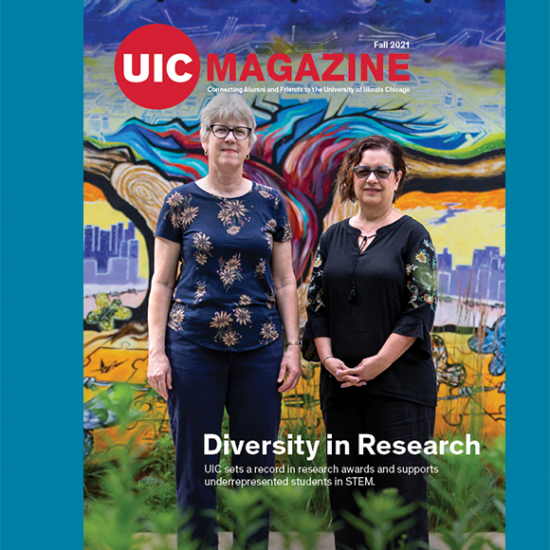 We produce two issues of UIC Magazine every year. The stories highlight UIC excellence and alumni who make us proud. Want to receive a digital copy of UIC Magazine? Update your info here.
We also keep our alumni informed throughout the year through the UICAA eNewsletters. From upcoming events, UIC news highlights and ways to volunteer, it is your source for the most up-to-date information. Want to make sure you are receiving it? Update your information here and read the newsletter here.
Read our magazine
Alumni Admissions Program
In the inaugural year, more than 175 alumni volunteered to inspire admitted students to choose UIC. Of the more than 1,750 students contacted between March–April 2021, more than 200 students enrolled at UIC. Interested in becoming an Alumni Admissions Volunteer? Fill out this form to learn more.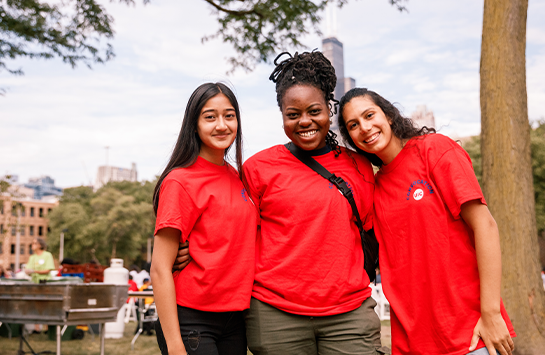 Convocation and New Student Welcome
Adrian Villarreal BA '17, MEd '21, member of the Student & Recent Alumni Engagement Committee, and Gabriela (Arroyo) Iniguez BS '19, recorded videos on behalf of UIC alumni welcoming new students to the Flames family during UIC's Virtual Convocation program. The videos, one in English and the other in Spanish, provided messages of support, pride and excitement for UIC's newest future alumni.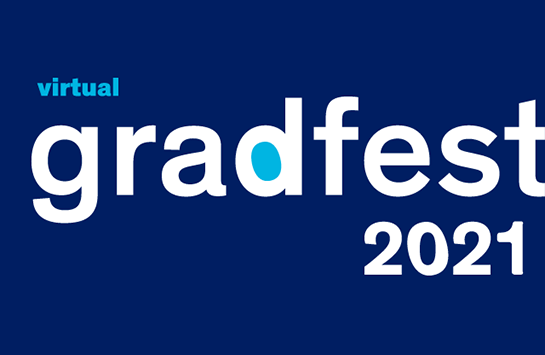 Virtual Grad Fest
UICAA hosted a fall and spring Virtual Grad Fest, an interactive experience exclusively for the graduating class. Facilitated through a free app, graduating students learned about alumni benefits and resources while completing tasks and challenges. More than 1,300 graduating students participated and completed more than 17,500 tasks.
UIC Connected
More than 1,500 alumni and 600 students are already networking on UIC Connected, a virtual network exclusive to the UIC community that was launched in April 2021. UIC Connected offers our community a place for mentorship, networking and career growth. Log in or join now.
Alumni Exchange
More than 4,750 alumni and friends participated in one of our 37 Alumni Exchange programs during the last year. The UICAA Alumni Exchange is a series of virtual events that brings news, knowledge and entertainment to help alumni learn, grow, connect and even escape from the everyday. To join us for one of our upcoming programs and see the current schedule, visit this page.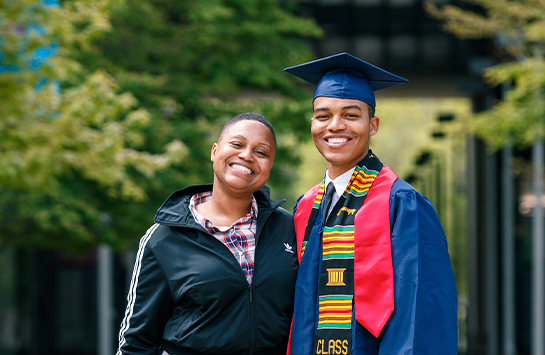 Alumni Affinity Networks
In June 2021, the UICAA Board approved the UICAA's first Alumni Affinity Network, Umoja: Black Legacy Alumni Coalition. Umoja means "unity" in Swahili. The group will create community for and provide networking to UIC alumni of Black and African American heritage, support student recruitment and retention, honor history and build traditions.
To build on alumni connections to UIC, we created the Alumni Affinity Network program, which deepens alumni relationships with each other and UIC through a common connection, for example, identity or location. For more info, please contact us at uicalumni@uic.edu.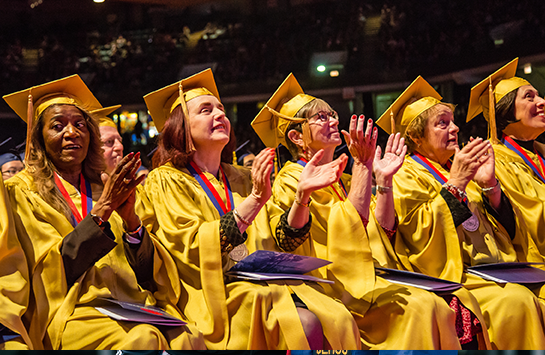 Golden Grads
In December 2021, UIC continued its tradition of honoring Golden Graduates, alumni celebrating 50 years since graduating. Class of 1971 graduates were invited to participate in a virtual gathering featuring a walk down memory lane and a special performance by UIC's student acapella group, Downtown Voices. Learn more.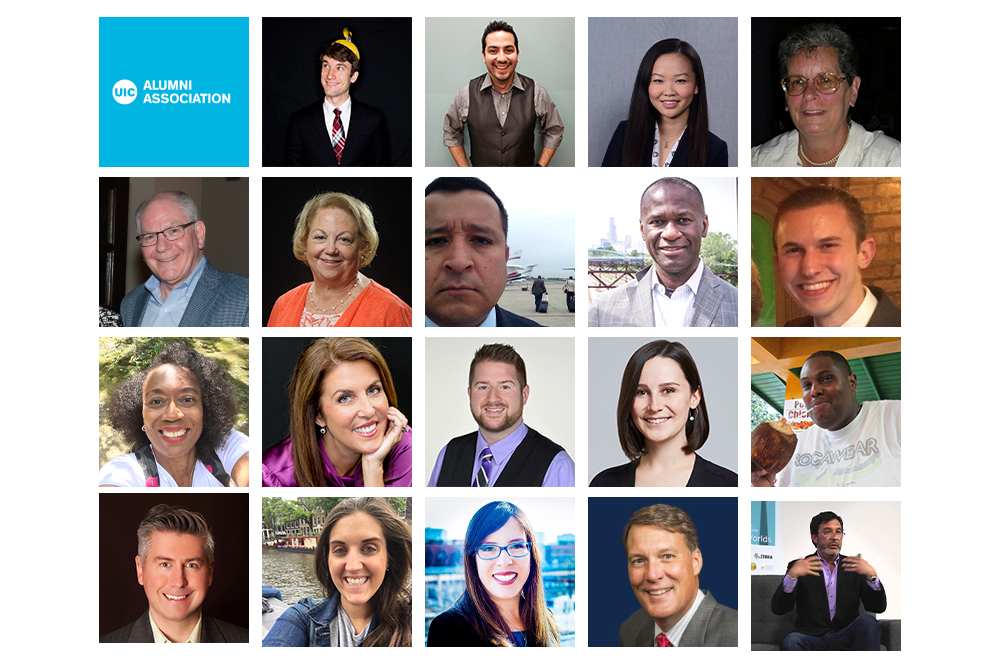 UICAA Board was established in the fall 2020 to advise and support meaningful alumni engagement that connects UIC alumni to one another and the university. Sixty-two alumni volunteer leaders on the board help support student success, encourage connections among alumni and promote advocacy that drives forward the mission of UIC. Scroll down to meet some of our volunteers and learn about our six board committees. Learn more or volunteer.
Leadership Committee
The Leadership Committee is composed of alumni who serve in various leadership capacities across the UICAA Board. It sets the overall direction and focus for the UICAA Board and conducts the business of the board in the intervals between board meetings. The Leadership Committee members are visible key stakeholders and provide leadership and vision for the UICAA.
Why do you serve on the UICAA Board?
I serve because I'm called. When our chancellor, Michael Amiridis, sponsored a new UIC Alumni Association he asked me to serve as the founding chair. I could not turn him down.  My many years of serving on both the UIF board and the UIAA board as a proponent of UIC uniquely qualified me to help organize, start and lead an effort to build a culture of alumni engagement at UIC.

What are you most proud of over the last year?
Looking at our past year I am most pleased that our staff has persevered through a worldwide pandemic and our volunteers have worked hard to produce and deliver outstanding programs—and did all of it over Zoom! The organization has matured and added many new board members, which allows me to complete my founding chair assignment.

What do you hope to accomplish over the next year?
I hope the coming year will allow our alumni and staff to interact in person so we can build and celebrate relationships. I see us serving more alumni through career networking, increasing contact and sharing context with recent graduates, positively influencing our legislators and community through UIC success stories.

Why do you serve on the UICAA Board?
I am proud of my UIC roots, and I want to support and give back to the institution where my career began.

What are you most proud of over the last year?
Establishing the UICAA Board, our operating committees and engaging so many volunteers and alumni during a pandemic. It was commendable how UIC and the UICAA successfully responded to the fluidity throughout the pandemic.

What do you hope to accomplish over the next year?
I hope we continue to advance the structure of our new alumni association and enhance communication and awareness through outreach to current students, recent alumni and seasoned alumni.
Outreach Committee
The Outreach Committee connects alumni with their closest affinity, or interest, to UIC and identifies opportunities for alumni to connect to UIC at every life stage after graduation.
Why do you serve on the UICAA Board? 
I appreciate the education and career preparation I received at UIC, and I feel it is important to help support the next generation of students. By volunteering, I can give back and hopefully make it a bit better for everyone. I am proud to help support UIC to keep it a strong and vibrant university.

What are you most proud of over the last year?

I was proud our committee kicked-off our affinity networks. There was a lot of discussion around different ways of structuring the networks, and I think we are off to a great start with our first one.

What do you hope to accomplish over the next year?
We are working on a number of key initiatives for the next year. The committee is looking to expand the affinity networks both in number and participation, in addition to improving the process as we grow. We are also strengthening and developing relationships with the individual college alumni departments and contributing once again to the Alumni Admissions Volunteer Program.
Student and Recent Alumni Engagement Committee
The Student and Recent Alumni Engagement Committee advises on programming specifically designed for students and recent alumni to engage with the UIC alumni network, from convocation to graduation and beyond.
Why do you serve on the UICAA Board?
I volunteer for the UICAA Board because I want to give back to the university that meant a lot to me not only as a student but in the years following as an alumnus. I want to make sure that current and future students have as wonderful of an experience as I did by plugging in to campus groups and events and becoming involved in continuing to make UIC the best it can be. I hope that as they become alumni, students think back to UIC with fond memories and want to make sure that those that follow them also have a great experience.

What are you most proud of over the last year?
I'm proud that my committee was able to adapt and think creatively during the pandemic. We kept our focus and came up with new ways to keep students and recent alumni engaged. Our best initiative was helping develop programming for recent alumni through the UICAA Alumni Exchange program. Home Buying 101 ended up being the largest virtually attended program of the Alumni Exchange series.

What do you hope to accomplish over the next year?
We plan to accomplish a few things over the next year:

Continuing to provide support and programming for recent alumni through the Alumni Exchange program.
Host two recent alumni events either virtually or in person.
Continue to work to understand the current student experience (on campus, commuting or remote) and find ways that the alumni association can enhance those experiences.
Awards and Nominations Committee
The Awards and Nominations Committee identifies and selects UIC Alumni Awards recipients, the highest level of alumni awards given at UIC, and manages the recruitment and selection process for the UICAA Board.
Why do you serve on the UICAA Board?
Because it is a public and local university, the option to attend UIC was a foregone conclusion. Receiving a degree from the institution solidified my continued interest in the impact the university has across so many constituents. Continuing to involve myself on the UICAA Board allows me to contribute on leadership and strategic offerings to support alumni and show Chicago how impactful we can all be when engaged.

What are you most proud of over the last year?
I am particularly proud of developing a process for nominating new members to the UICAA Board. We welcomed 27 new board members through a rigorous evaluation process led by the Awards and Nominations Committee. The board is made up of a diverse group of individuals that reflect the diversity of the student and alumni populations at UIC and will lead the charge of the UICAA Board moving forward.

What do you hope to accomplish over the next year?
We are going to determine a leadership succession process for the UICAA Board Committees, review the 2021 board recruitment strategy and make any necessary adjustments for the 2022 process. We will work to bring back the Alumni Awards Celebration where we give out the highest level of alumni awards from UIC. The format may look different, but alumni will be impressed to learn about their fellow graduates and their outstanding accomplishments and contributions. We will also assess options for future 2022 awards, nominations and recognition.
Alumni Advocacy Committee
The Alumni Advocacy Committee advocates on behalf of the university and represents UIC priorities to government entities. It coordinates the recommendations for nominations to the University of Illinois Board of Trustees and works closely with UIC Government Affairs to advance UIC legislative priorities.
Why do you serve on the UICAA Board? 
I am proud to be part of UIC, which provides phenomenal opportunities for advancement to a range of Chicago youth. There is no academic institution like it. The ability of UIC to contribute to the community fabric and economic development of Chicago and beyond is only just getting started.

What are you most proud of over the last year?
Our newly formed committee was able to screen more than six candidates for the UIC Board of Trustees, and we were successful in advocating for Ray Cepeda to continue serving on the board and wearing the UIC hat. We will strive to balance the representation on the board, with just two UIC representatives, we have our work cut out.

 

What do you hope to accomplish over the next year?

As a relatively new committee within the newly formed UIC Alumni Association, I hope we can continue to build a positive brand, attract new members and meet the relevant elected officials that govern UIC at all levels so we can be sure they fully appreciate what UIC can do, and does do, for the community.
Alumni Career Services Committee
The Alumni Career Services Committee advances traditional and web-based engagement pathways to career services for UIC alumni. This includes the Alumni Coaching Network, mentoring and networking programs and life-long learning opportunities for UIC alumni.
Why do you serve on the UICAA Board?
As a double-degreed alumna, I am thankful for all I have learned from UIC. I want to give back to the school that has given me so much.

What are you proud of over the last year?
That our group is setting the foundation for the coaching network. We are building something big from nothing.

What do you hope to accomplish over the next year?
We hope to build a deep coaching network as well as increase participation on UIC Connected.