Recognizing Excellence: Credit Union 1 Scholarship
The Credit Union 1 Scholarship gives high-achieving students access to a UIC education. Read our profiles of the scholarship recipients in College of Medicine, UIC Business, College of Engineering and Intercollegiate Athletics.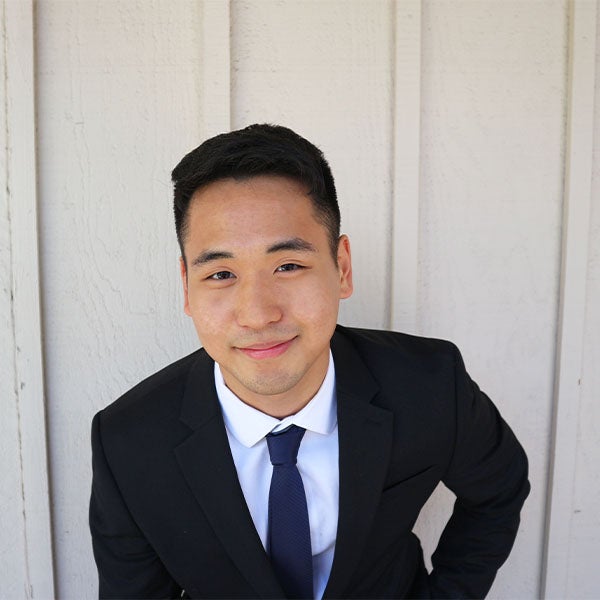 In fall 2020, Eugene Suh moved from Los Angeles to Chicago to attend medical school at UIC's College of Medicine. The once-in-a-century pandemic was beginning to surge, and many of the hands-on experiences Suh most looked forward to were canceled due to COVID-19 restrictions. It was a time of uncertainty, but a Credit Union 1 Scholarship helped ease the transition. Today, Suh says he looks forward to the coming academic years when his education will take him into the hospitals and clinics where he can build relationships with patients and discover his career path.
Why UIC?
I grew up in Los Angeles, and I went to school at UC Berkeley. I really enjoyed the city life, the fact that there's always something to do and the diversity. Chicago seemed like a great fit in that regard. Also, UIC is one of the oldest medical schools around. It has a great curriculum. When I came here for my interview day, I felt at home. The students made sure that we all felt welcome not just academically, but socially, too.
How did your scholarship help you?
It was an amazing surprise because UIC has a pretty high out-of-state tuition. So, any sum of money is a burden off my shoulders. I was incredibly fortunate to receive that. It helped with my move to Chicago and living expenses. If I am ever in a position to help future medical students with their expenses, once I pay off my medical school debt and am established in my career, it's something I want to be a part of because I know how helpful it can be.
What motivated you to study medicine?
It was a combination of things. I was always interested in the sciences, and I was also passionate about sports. Injuries are a part of sports. I was fascinated by diagnosing exactly what happened and how to treat it to make athletes come back, bigger, better, faster and stronger. I love the social aspect of medicine as well. You communicate directly with people, and you use your expertise to solve people's problems.
What are you most excited about for the future?
I can't wait for rotations, where you explore different specialties for several weeks to months at a time. I'm a very curious person in general, and I could see myself in so many different specialties. I can't wait to get a better grasp of what's going to be the right fit for me in the future.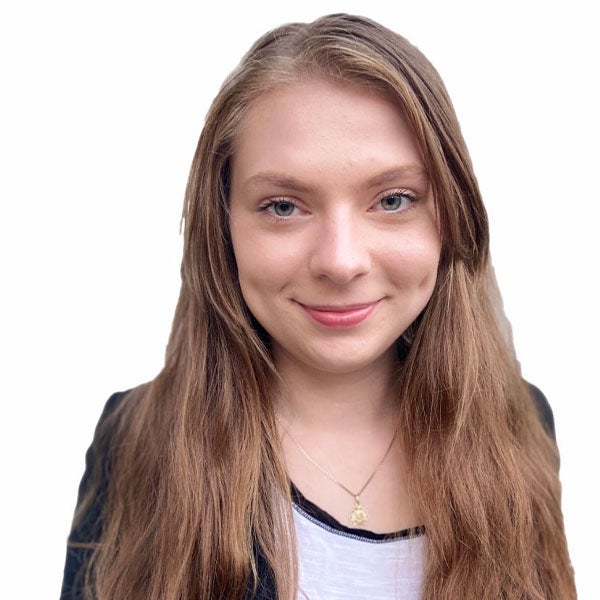 Karolina Kaczowka is a senior majoring in marketing at UIC. As copresident of UIC's chapter of the American Marketing Association (AMA), Kaczowka is interested in everything from social media and investing to finance and real estate. Her entrepreneurial mindset and inspiration come from her mother, who started her own cleaning business after immigrating to the U.S. While last year was one of the toughest she has faced both academically and personally, Kaczowka persevered with help from her community at UIC and at home.
Why UIC?
I picked UIC because it's a large school and close to the city, which I thought would help me with networking and professional development; and it has.
How did your scholarship help you?
It meant so much to me and I am grateful for it. It came at the right moment because at the time I was struggling financially, and it helped me pay off some of my debt and focus on my studies. I was shocked and so happy to know that people believed in me.
What do you plan to do after graduation?
I plan to work in marketing, but I'm also interested in investing. I also want to help others learn skills that are important for business and be a mentor.
What are you most looking forward to next semester?
I can't wait to see all my friends from AMA in person and meet new people on campus.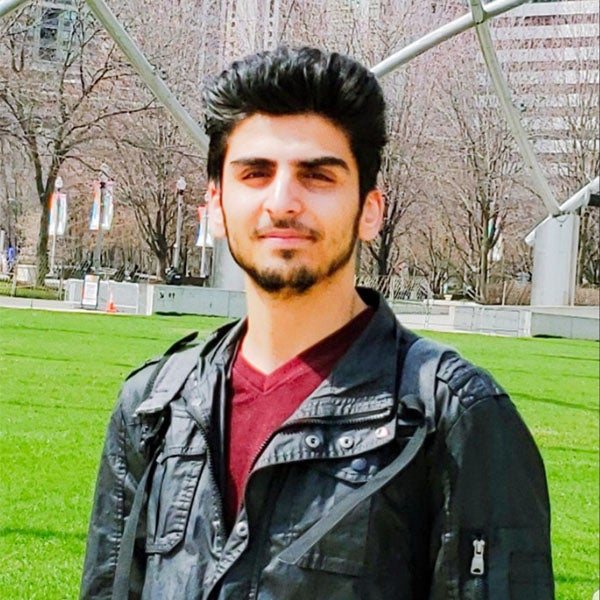 Mohamad Merei is a junior majoring in electrical engineering at UIC. He came to the U.S. from Syria with his family in 2016. Despite the cultural and linguistic challenges he faced, Merei transferred to UIC from Waubonsee Community College in fall 2019, has maintained a 4.0 GPA and is proud to be part of the Early Research Scholars Program. Receiving the Credit Union 1 scholarship helped alleviate some of the financial hardships brought on by the pandemic and motivated Merei to retain his focus and continue to do his best.
Why UIC?
It's an affordable public school and has a welcoming community with people from different backgrounds. Since my brother studied at UIC first, hearing from him what it was like encouraged me to go.
How did your scholarship help you?
It came right on time, just after the pandemic started. I wasn't working, my brother was looking for work, and my father had lost his job.
What does receiving the scholarship mean to you?
It's amazing to know that someone is trying to help me achieve my dreams. It gave me motivation.
What do you plan to do after graduation?
I'd like to continue for a PhD, likely at UIC. I'm part of the Early Research Scholars Program here, and I have grown to love research, so I'd like to continue my education and pursue a PhD.
What are you most looking forward to next semester?
Meeting my friends on campus and at the library.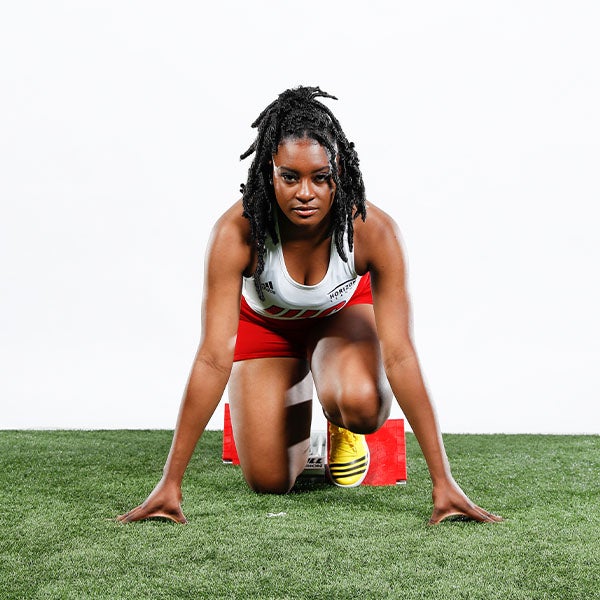 UIC senior Prevail Bonga was recognized for being at the top of her game as an athlete, scholar and community organizer with a scholarship from Credit Union 1. Bonga's college career has been extraordinary. She competes in Women's Track and Field while working toward majors in criminology, law and justice and Black studies with a minor in political science. She is a member of the Honors College and regularly makes the Dean's List. On top of all that, she is a community organizer working to address the injustices she sees in the world.
Why UIC?
One of the reasons that I chose UIC, and this was very important to me, was diversity. Where I went to high school, I did not see a lot of representation. It was important for the next four years of my life that I learn how to network with people who may not look like me or have the same upbringing as me. Another reason I chose UIC was because of the education it offers, especially with UIC being ranked 11th in the country.* It shows the prestige and the value of information UIC has to offer.
Most influential moment?
The Black Lives Matter protest I organized in light of George Floyd and other Black people who were victim to forms of state violence solidified the fact that there are people all around the world willing to put in the work and show up for those who are marginalized and oppressed. Growing up in the U.S. as a Black woman shapes how I view the world and how people view me. I saw injustices and things that were unfair and unequal. I want to be a part of changing that. I'm a firm believer that if you see an issue, or if you see a problem, don't just complain about it; do something to change it. Once I saw those things, I began to try to be a solution-oriented changemaker.
Career plans?
I'm interested in public interest law, specifically civil rights or international human rights. I've seen how legislation and policies disproportionately affected the Black and brown communities. I'm also Congolese, and both of my parents came here as immigrants. They saw a lot of human rights issues. I'm also thinking about getting a master's in public policy after my experience working as a legislative aide for my state representative. I hope that I'm able to represent marginalized and oppressed groups who aren't able to represent themselves.
What did your scholarship mean to you?
I'm a first-generation college student, and I am constantly looking for ways to pay for school and leave with the least amount of debt. Receiving the scholarship helped me continue my education something as simple as removing a financial hold so I could schedule classes for the next semester. I'm extremely thankful to the donors of the scholarship. And I will do what I can to make everyone proud.
*The University of Illinois Chicago is ranked 11th in the country among public universities in the listing of America's top universities by QS World University Rankings for 2021.
Modified on November 15, 2021