Alumni in Office
Meet a few of UIC's many alumni who are called to serve as elected officials.
Across Illinois, UIC alumni have been elected to help shape life for the state's more than 12 million residents. Informed and inspired by their academic experiences at UIC, Chicago Alderman Byron Sigcho-Lopez MA '10, Commissioner Josina Morita MUPP '10, Illinois House Speaker Chris Welch JD '97 and House Minority Leader Jim Durkin JD '88 spend their days fighting for policies that deliver housing and after-school programming, care for the environment and define the priorities of state government.
Emanuel "Chris" Welch JD '97 | Representative Illinois' 7th District | Speaker of the House of Representatives Heading link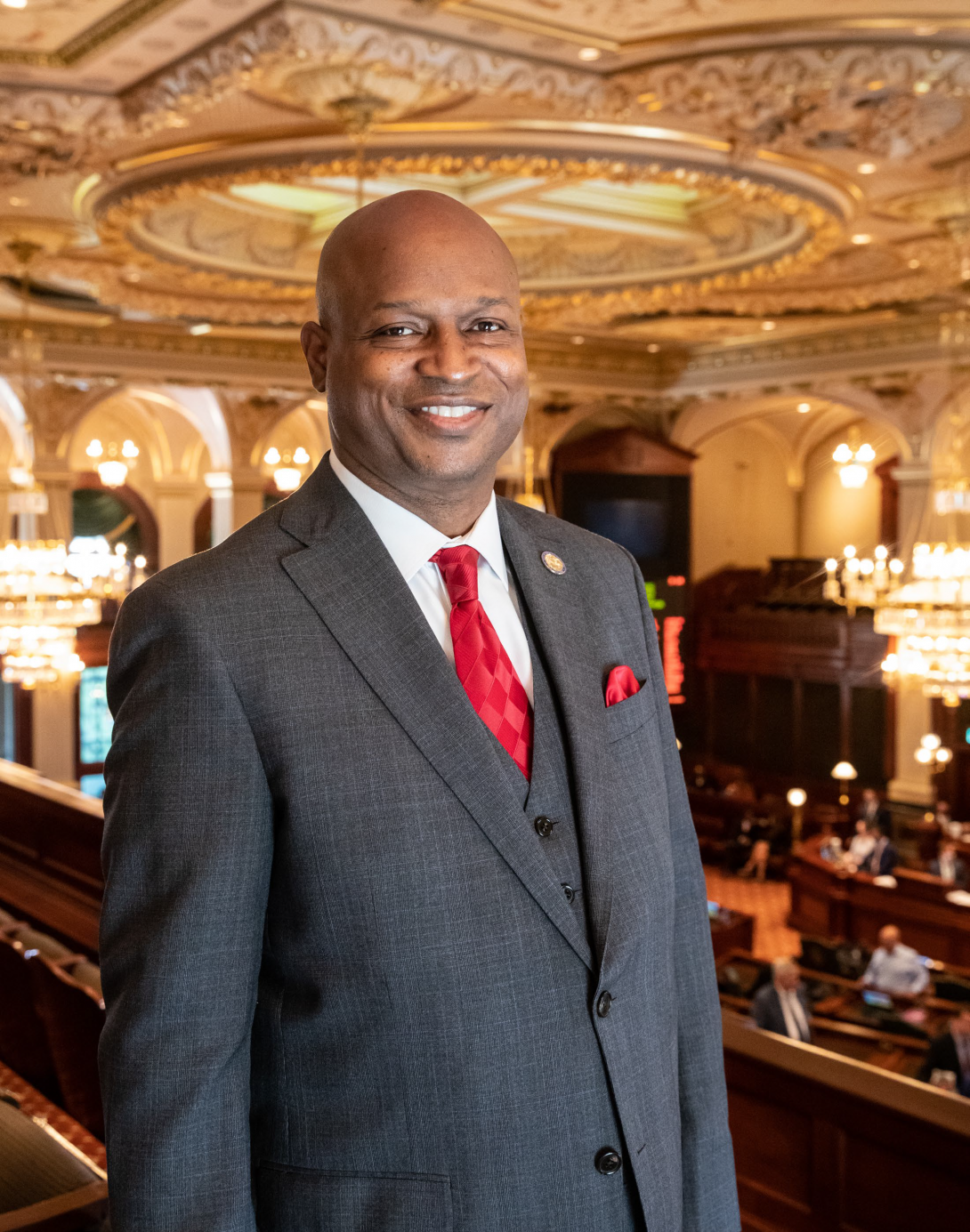 Chris Welch, a civil litigation attorney, took his first shot at elected office in 2001 when he pursued a spot on the Proviso Township High School District 209 board. Faculty and staff from Proviso West High School in Hillside, Illinois, where Welch had graduated 12 years prior, had encouraged him to run amid intense union strife. "I didn't realize I was launching myself into political life," he says.
Soon after winning his second term on the school board in 2005, Welch opposed incumbent Karen Yarbrough for a seat in the Illinois House. He says he got "trounced." When Yarbrough decided to move on in 2012, however, Welch explored another campaign. New campaign maps gave him an edge, as the redrawn 7th District encompassed much of Proviso Township, where he had name recognition.
When Welch went to bed on the night of the Democratic primary in 2012, he held a razor-thin six-vote lead. One week later, election officials confirmed Welch's victory by 36 votes. That same day, Welch's wife, ShawnTe Raines-Welch BS '04, JD '09, gave birth to the couple's first child.
Welch scored an impressive rookie-year victory in Springfield when one of his earliest bills, the so-called Homeless Bill of Rights, granted new health care, privacy and public service protections to the state's homeless population. Welch later led legislative efforts to enact due process protections for immigrants and require companies to report their board composition. "One day when I'm no longer here, I'll be proud of these pieces of legislation," he says. Welch credits his UIC Law education for helping him navigate the fast-paced world of Illinois politics. "There is no typical day in politics, especially when you're leading the House of Representatives. But my education taught me to work hard, welcome collaboration, prepare for substantive and civil debate and always strive to be better than you were yesterday."
On Jan. 13, 2021, the 49-year-old Welch was elected Speaker of the House, replacing entrenched Springfield power broker Mike Madigan. Over a breakfast conversation with his son on Martin Luther King Jr. Day, Welch recognized the significance of being the first African American to hold the Speaker's post. "When my son realized that I was the first to do this in over 200 years of Illinois history, it hit me that he and other boys and girls across the state now had an example of what they, too, could achieve."
It's an action-packed first year for Welch as Speaker. He is overseeing the required redistricting of legislative maps, steering budget talks amid a challenging economic environment and pushing ethics reforms. "I've always loved law and politics, so I feel I'm living my best life."
Byron Sigcho-Lopez MA '10 | Alderman Chicago's 25th Ward Heading link
Born in Ecuador, Byron Sigcho-Lopez arrived in the U.S. as an exchange student in 2001. "I knew little English and can relate to the immigrants who come here and struggle to find their way."
Soon after earning undergraduate degrees in mathematics and business administration from Cumberland University in Tennessee in 2006, Sigcho-Lopez ventured to Chicago. Settling in Pilsen, the historically Mexican community immediately south of the UIC campus, Sigcho-Lopez pursued his graduate degree in economics at UIC while also leading Spanish-language GED workshops at the UIC Center for Literacy, a position he says brought him to various Chicago neighborhoods and helped him understand their needs.
With his master's degree in economics in hand, Sigcho-Lopez began pursuing his PhD at UIC in policy studies in urban education. His thesis investigates charter schools and the privatization of public education. He credits classes in education, urban planning and political science with helping him connect theory to practice.
When then-Chicago Mayor Rahm Emanuel unveiled plans in 2013 to close as many as 129 public schools, including Pilsen Academy, where Sigcho-Lopez volunteered as a soccer coach, he led successful efforts to save Pilsen Academy and others. That work inspired his first run for City Council in 2015. He failed to unseat entrenched 25th Ward Alderman Danny Solis, but he says the experience intensified his interest in community organizing.
Seeing continued corruption and gentrification that displaced families and weakening investment in public education, Sigcho-Lopez mounted a second aldermanic campaign in 2019. "We continued to see deals that pushed for developers and corporate interests, but where was the push for residents?" Sigcho-Lopez captured the seat by defeating Alex Acevedo.
Sworn into City Council on May 20, 2019, Sigcho-Lopez guides one of Chicago's most diverse wards, one that hosts iconic communities such as Pilsen, Chinatown and Little Italy.
A member of the Chicago Democratic Socialists of America, Sigcho-Lopez champions the democratic process. He formed a 25th Ward Zoning Advisory Board to provide residents a voice in local development as well as a Stakeholders Coalition that meets monthly to discuss community issues such as public safety, housing, health care and small business.
Moving forward, Sigcho-Lopez aims to deliver more afterschool programming and apprenticeship opportunities to local youths as well as affordable housing. In cooperation with government agencies, Sigcho-Lopez envisions bringing at least 1,000 units of affordable housing to the 25th Ward by 2030. "Government is about giving back, uplifting and empowering, and we're creating a different vision," he says.
Josina Morita MUPP '10 | Commissioner Metropolitan Water Reclamation District of Greater Chicago Heading link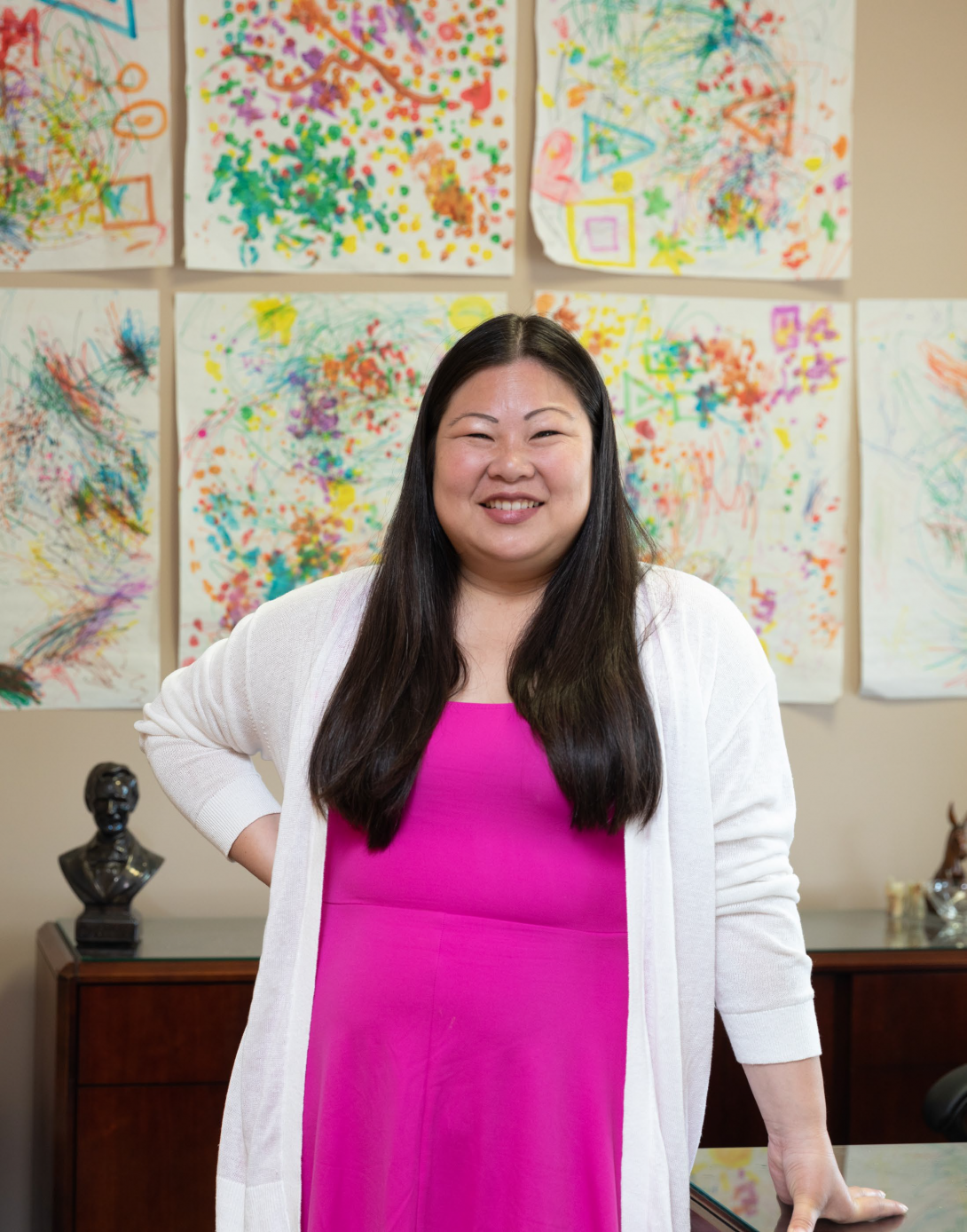 In 2002, Josina Morita moved to Chicago from her native California and was swept into the state's political tide. She co-authored the state's first legislative report card on racial equity in 2006. Later, she led the advancement of a racially equitable state redistricting map and legislative campaigns for undocumented immigrant driver's licenses and youth employment, efforts powered by skills gained while earning her Master in Urban Planning and Policy at UIC.
In 2014, Morita made her first run for political office, seeking a spot on the nine-member Metropolitan Water Reclamation District (MWRD) of Greater Chicago Board of Commissioners. "I wanted to bring my background as an urban planner to the board, looking at issues of increasing green space, public use and equity and how we could better use land as a community asset." Morita also noted a disappointing lack of Asian American representation among elected officials in the Chicago area and hoped to change that.
After falling short in the Democratic primary, Morita received encouraging calls from local Democratic leaders and constituents. "I felt I had let so many people down who were excited to have a seat at the table. I knew I had to run again and do it quickly," she says.
In 2016, Morita returned to the MWRD ballot. This time, she won, breaking ground as the first urban planner on the MWRD board and the first Asian American elected countywide in Cook County. "It was emotional and meaningful to me and so many others, particularly older generations of Asian Americans who thought they'd never see the day." Morita now chairs the Asian American Caucus, a group of elected officials who advocate for the state's Asian Americans.
Morita, a self-described "progressive environmentalist," has promoted transparency and environmental outreach at the MWRD. She helped to install the district's first inspector general, advocated for protections to the Great Lakes and concocted the Million Gallon Challenge to help Chicagoans reduce their water footprint. She also launched the Big Jump, a public education event highlighting Chicago River water quality, that saw Morita leap into the river three times. "And twice while pregnant," she notes.
Morita credits her UIC education in urban planning and public policy for consistently informing her efforts on the MWRD board. "UIC approaches the city as its classroom, and the applied, collaborative approach I learned as a student is what I'm using today as commissioner," she says.
While next year brings her first reelection bid, Morita remains focused on the present. She is finalizing an equity land use audit designed to increase green space, reduce pollution and build community partnerships. "I love the scale of impact I can have in this role."
Jim Durkin JD '89 | Representative Illinois' 82nd District | House Minority Leader Heading link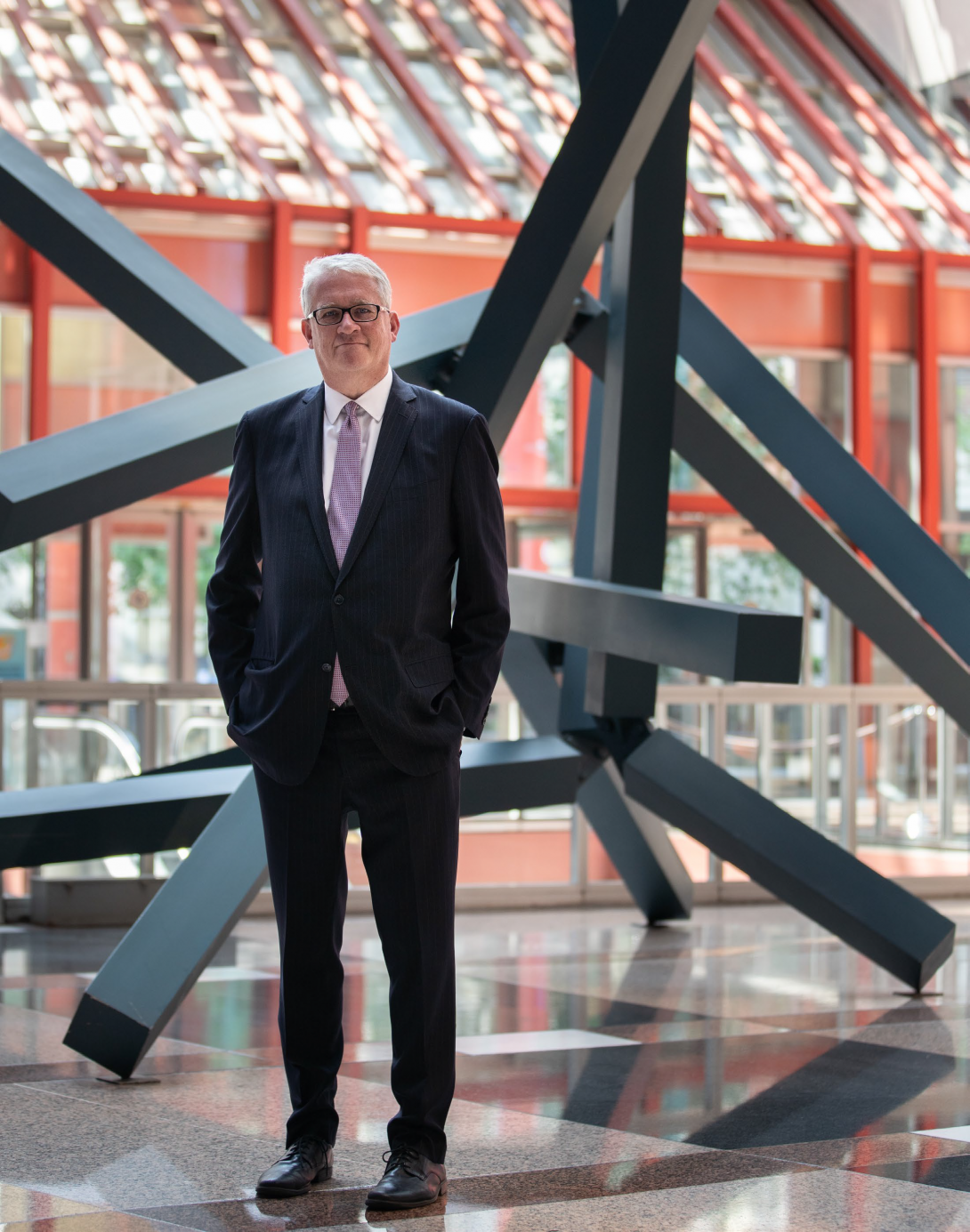 While working on Illinois Representative Thomas Walsh's campaign, Jim Durkin "caught the political bug." Durkin entered the 1991 Triton Community College Board of Trustees race, his first run for political office, amid controversy over trustees who had awarded themselves American Express Gold Cards. Durkin's campaign promised to cut up the credit cards. When he won the election, he did just that.
In 1995, Durkin, then an assistant Cook County State's Attorney working in the felony trial division, was appointed to replace Walsh in the Illinois House. He felt both honored and overwhelmed. "When you're a freshman, you're not sure of your role or your lane. The best thing I did was listen and watch the seasoned vets around me," he says.
As a state representative, Durkin valued his UIC Law education and experience in criminal justice and criminal procedures. "I could speak with great clarity to the criminal justice system because I lived it at the ground level." In fact, he later recommended allowing depositions in capital punishment cases and pre-trial reliability hearings for the use of jailhouse informant testimony. He says they were "issues of fairness."
After eight years in the Illinois House representing Chicago's western suburbs, Durkin opposed Dick Durbin in the 2002 U.S. Senate race. Though Durkin fell short, he says the race brought him closer to the diversity, priorities and concerns of Illinois residents.
In 2006, Durkin returned to the House—again by appointment, following the retirement of Representative Eileen Lyons. "I had sworn off getting involved in political office again, and my wife begrudgingly went along with it. But, I felt Republicans were making some movement in Springfield, and I wanted to be a part of it." Durkin's district covers west and southwest suburban communities such as LaGrange and Lemont.
In an era of highly divisive partisan politics, Durkin, the House Minority Leader since 2013, has tried to be above the fray and promote collegiality. In fact, he counts working with Gov. J.B. Pritzker on budget solutions, a massive public works project and expanded gaming as particular points of pride.
Proud of his law degree and what it has empowered him to do as a professional, Durkin says UIC Law's status as the city's only public law school helps build a "new era" of law. "The idea of attending and completing law school becomes significantly less daunting to thousands of prospective students and will create a more diverse and expansive law community in our state."
Modified on March 08, 2022