Welcome!
UIC Advancement connects and engages alumni and friends with your university.
Our alumni community makes us proud.  Within it we find not only infinitely differing backgrounds, but also extraordinary talent and tenacity, and a lifelong commitment to working hard, doing good and giving back.
It's important to us that you engage, with UIC and one another, in ways that are meaningful to you.  For some it's volunteering or mentoring; for others it's financial support.
Tell us how you want to connect.  We'll make it happen.
UIC's Best and Brightest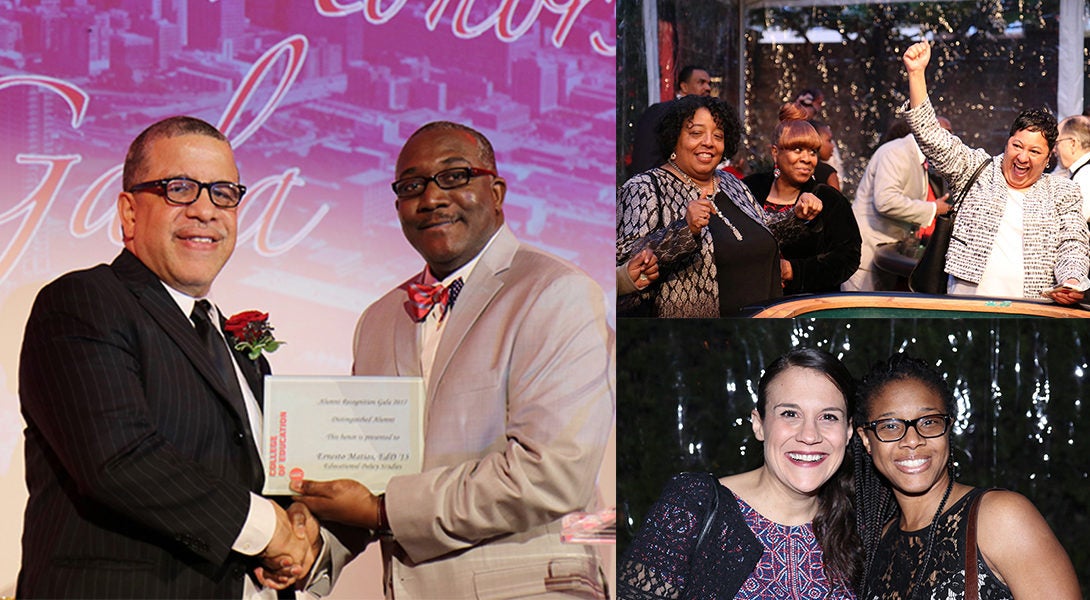 2017 UIC College of Education Alumni Honorees
The UIC College of Education honored alumni Ernesto Matias, EDD '15, Ken Fujimoto, PhD '14 and Cheryl Watkins, MED '92, PhD '15 for their contributions to public education in Chicago at the Fourth Annual Alumni Honors Gala. Dr. Matias is the Chief of Network for Chicago Public Schools and has dedicated his career to improving outcomes for his students. Dr. Fujimoto is an assistant professor at Loyola University's School of Education, where he conducts research to examine the quality of education and psychological test data.  Dr. Watkins is the Deputy Chief of Network 11 in CPS, where she supports 42 schools, mostly in the Englewood community, and works to make sure her students always see themselves in a positive light. Read more.
Upcoming Events
Thursday , 5:00 pm - 7:00 pm
Bridge House Tavern
Saturday , 10:00 am - 3:00 pm
UIC College of Nursing
Saturday , 7:00 pm - 10:00 pm
UIC Health Sciences Campus, Rockford
Saturday , 6:00 pm - 10:00 pm
The Geraghty