From UIC to the C-Suite
Paragraphs 1-2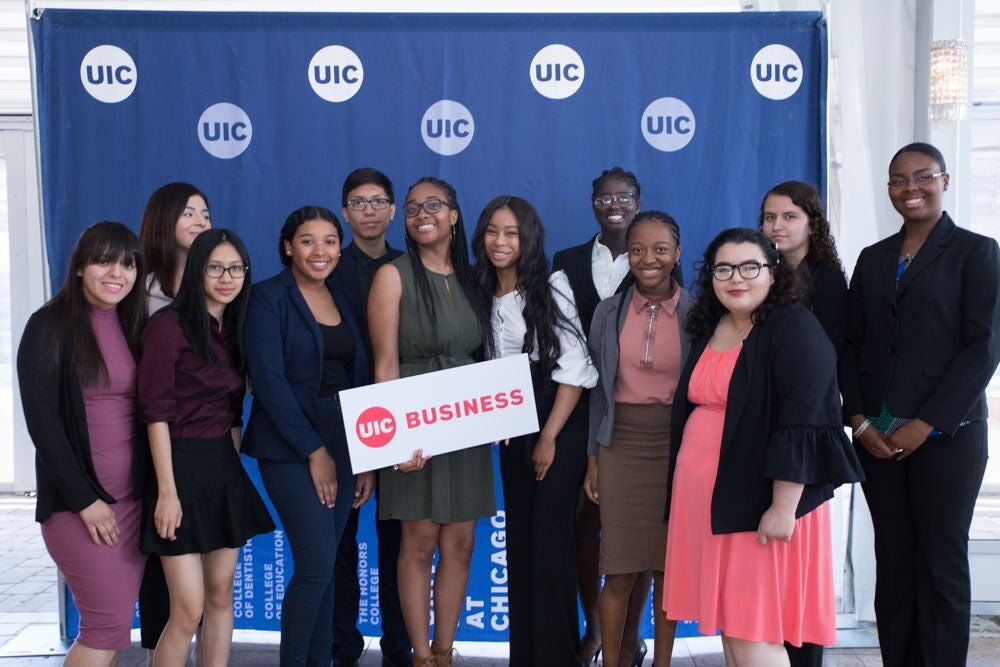 Underrepresentation in upper echelons of the business world begins with underrepresentation in the classroom. "Representation matters, and we want to encourage Latinx, African American, women and first-generation students to demand a voice in the conversation and a seat at the table. That requires experience, confidence and knowledge. We help the students develop all of that in our Future Leaders in Business programs," says Alanna O'Connor, assistant dean for student recruitment for UIC's College of Business. In partnership with the UIC CHANCE Program, Kendal Parker, director notes that this program serves as a pathway for pre-college students who are interested in the world of business.
UIC offers a free, selective five-week Future Leaders in Business pre-college experience for high school seniors that typically includes a stay on campus, courses in accounting, finance, marketing and professional development taught by UIC Business faculty and supplemental instruction with math and writing. The program began in 2018, and so far 18 participants have enrolled at UIC and received a $5,000 renewable scholarship supported by a gift from alumnus Al Heller BS '75.
Alumnus Quote
I think getting a good education at a good school is paramount to success. I want to invest in these kids.
Paragraphs 3-6
Heller, operating partner at Water Street Healthcare Partners, grew up on the South Side of Chicago and attended Chicago Public Schools. "I had to work full time to pay for college at UIC, and it was not an easy road. I think getting a good education at a good school is paramount to success. I want to invest in these kids," he says.
In addition to his scholarship support, Heller gave a gift to launch Future Leaders in Business Junior (FLB JR), a one-week summer commuter program for students going into their sophomore or junior years of high school that introduces them to professional skills, career paths and business degree majors. Opening the opportunity to younger students was important to Heller because senior year is too late to begin thinking about college. FLB JR was taught online this summer.
"The FLB JR program has been one of the highlights of my year. Although it's been incredibly rough with COVID-19, I found what I want to do in life, even if it was through a video chat call. The professors were amazing, and the program is making my senior year a bit easier. I have applied at UIC, and it's one of my first choices," says Emily Velazquez, senior at Morton East High School in Cicero.
O'Connor says the goal is to get students like Velazquez to return to UIC for the FLB program and ultimately enroll at UIC Business for college where they will receive support and leadership development opportunities to prepare them for a career path that leads them to the top.
Modified on March 02, 2021