The 606's Trailblazer Jamie Simone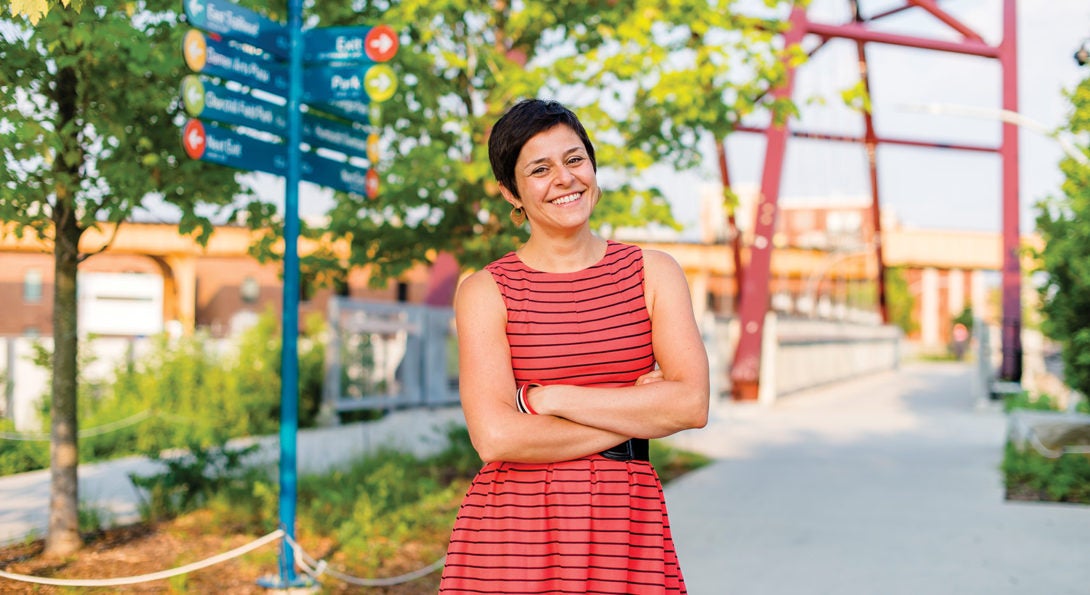 The Trust for Public Land's Jamie Simone navigated competing interests to help transform a defunct elevated rail line into the 606 parkway
It was years and years in the works.
Neighborhood groups squabbled with developers who argued with aldermen. Landscapers had issues with investors who argued with construction teams. The project languished and then picked up again and then stalled. In June 2015, the three-mile, $95 million elevated park finally opened to great fanfare, and the old Bloomingdale Trail, now christened the 606, built upon the former Canadian Pacific rail line, became a thrilling mecca for bikers, hikers and fans of reclaimed urban land. But few who weren't actively involved in the 606 could have known to credit its successful completion to Jamie Simone, MUPP '04.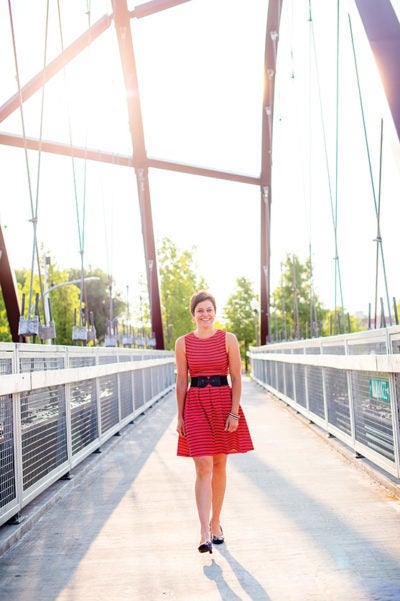 Simone is interim director of the Chicago Region office at The Trust for Public Land, a sprawling, non-profit organization headquartered in San Francisco with 30 offices nationwide. Founded in 1972 and dedicated to creating parks and protecting land, its reach extends from conserving multi-million-acre tracts of the West for wildlife refuges to carving out green space in cities such as Chicago. TPL stepped in to rescue the 606 when the project badly needed a partner to close the deal. "People said, 'You buy land, right?'" Simone recalls. "'You should come and buy this land because it would [make] a great park and eventually you could add a ramp, which would be a great way to get up to the trail.'"
Simone has a way of making what she does sound simple and matter-of-fact. In reality, it involves a rare combination of urban-planning savvy, design insight and people skills.
"It took Jamie to juggle all the parties involved," says Ben Helphand, president of the Friends of the Bloomingdale Trail and the person who recruited Simone to help with the 606. "Some planners stop hearing what people say. She actually listened. Then she translated the community thoughts and ideas into planner-speak."
Simone credits some of her success in working with people and resolving thorny issues to an undergraduate degree in social work and her previous experience working at a rape crisis center and a domestic violence agency. "Once you're trained in social service and crisis intervention work, it's a lot easier to help people through situations that are frustrating and stressful," Simone explains. "It gives you a good perspective; you learn how to build trust and listen. You have more of an ability to stay calm and be a problem solver instead of getting all wrapped up in the issues."
Urbanist
But never assume Simone is immune to issues. She is, in fact, very passionate when it comes to her belief in the quality of urban life. She believes in neighborhoods where people can walk to school and public transit. There should be green space and nearby grocery stores. Simone and her husband finally found a place in Wicker Park, and she considers herself lucky.
"We were kind of at the end of our rope; we were ready to throw in the towel," she says. "Lots of friends of mine have moved to the suburbs, and I get it. You pick the house where you want to live and you're guaranteed an excellent school, kindergarten through 12th grade. You don't have to think about it. It's hard to argue with that.
"I understand why people think [living in Chicago] is too hard. They look at the Chicago Public School System with its magnet schools and lotteries. It's dizzying. I mean, I'm a fairly intelligent person, and none of it makes any sense to me. How do people all over the city figure this out and make it work?"
Simone cares a lot about how and where people live. It's why she switched from social work to earning a master's in urban policy and planning at UIC.
"I didn't know a lot about urban planning," Simone admits. "It was sort of a leap of faith. But I liked the idea of being in a field that still had some of the same social justice undertones. You could work toward improving peoples' lives or getting at the root causes of social problems. In social services, you're so far downstream, you're just dealing with the problem, trying to improve upon what you've got. Urban planning gets you further upstream where you're hopefully improving the places where people live so they have better opportunities."
Simone picked UIC to earn her graduate degree, in part, because both of her parents were UIC alumni, but more importantly because she liked the idea of rooting herself in Chicago. "I'm a practical person. So what was important to me was going to school in a city where I understood the landscape and where I planned to work and build my network," she says.
A dynamo
UIC's networking opportunities turned out to be a big bonus for her. "When you get into urban planning, you realize it's a small field," Simone says. "The cohort I graduated with stayed pretty close. Then I started to get to know the people who graduated before and after me. From the day I graduated, it seemed that anywhere I went, there would always be a fellow UIC MUPP. At my first job, I'd go to meetings and it would be, 'Oh, hey, so and so, how are you doing?' and people would say, 'Gosh, you know everybody!'"
That first job was at Farr Associates, an urban design firm that puts a priority on green building and sustainability. Doug Farr, the firm's founder and president, was impressed with Simone from the start.
Moving from the private sector at Farr Associates to nonprofits was not a big deal for Simone.
"Most of us [urban planners] are at least on our second job, some on our third—it's interesting to see how many start out in one job and branch out," says Simone, who followed her work at Farr with four years as program manager at the Wicker Park Bucktown Chamber of Commerce. "It's one of the things I really like about urban planning. [It offers] so many directions. I like that. I started at an architecture and planning firm doing urban design work, and now I'm more on the implementation side, doing project management. I found my way here, and it really suits me."
Simone particularly likes the idealist mission of TPL, which is dedicated to having every person in the U.S. live within a 10-minute walk of a park or open space. She likes that her work involves so many aspects of urban planning—from diplomacy to actual building.
With construction and landscaping completed, the 606 now is in the maintenance phase, but there are still issues of stewardship and upkeep to deal with. Occasionally, there are stickier issues that require Simone's attention.
The raised trail runs close to existing homes, and for one condo owner, that turned into a huge summer headache. At the trail's eastern terminus (the overpass on Damen) the busy new green space became a gathering spot for beer-guzzling teens, who littered and urinated just beyond his condo windows. Complaints went nowhere. Cooler weather brought temporary relief, but no end to concerns about a summer repeat. Consequently, Simone contacted the key parties, and on a bitter, blustery day in March, she met on the overpass with the condo owner and the building manager, along with two Chicago Park District officials and three police officers. Everyone huddled against the blowing snow and howling winds but at the end of half an hour, after debating solutions that ranged from more fencing and shrubbery to added surveillance, Simone was pleased with the meeting.
"It's always good to remove barriers and bring people in the community together with police and those in government," she said as we headed down the snow-covered ramp. "Now, they're not faceless. These are good people doing really difficult jobs."
Community advocate
The 606 may be TPL's big headliner in Chicago, but Simone works on any number of other projects. She played a key role in the May 2015 opening of Margaret Donahue Park, a stone's throw from Wrigley Field. That particular facility, which houses athletic equipment and artwork, might still be a bleak mess of weeds and concrete if TPL and Simone had not stepped in to facilitate funding from a community group and the Chicago Cubs (Donahue was a legend in the organization), and then hire a contractor to get things going.
TPL's involvement depends entirely on the region, explains Simone; on the East Coast, the organization is working to create buffer zones to protect the fragile seashore from Atlantic storms. Meanwhile, in Chicago, "the problem is street flooding, sewer back-up problems, basement flooding," she says. "So we're looking at ways to use our parks to help manage storm water."
In general, Simone likes to accentuate the positive in Chicago, and gives the city good grades for its efforts. "We have great neighborhoods," she says. "We have really solid places to live when you look at walkability, when you look at getting downtown on public transit, when you look at schools and parks. We have some incredible neighborhoods with great retail corridors."
But not every neighborhood meets those high standards, Simone allows, and she is more guarded expressing an opinion on some issues that have roiled Chicago conservationists and planners of late, including the Lucas Museum and the Barack Obama Presidential Center.  "A big asset that comes into a community can be a really good thing," Simone says, "but other [public]assets should be considered at the same time, like whether public transit and other public amenities need [upgrading]. We need to work with elected officials so when the next big thing comes in, it won't catch people off guard.
"The most important thing," she adds, "is that people have to come together for a solution."
Modified on May 17, 2017