Dec
14
2019
Class of 1969 Golden Graduates 50th Anniversary Graduation Celebration
December 14, 2019
9:30 AM - 4:30 PM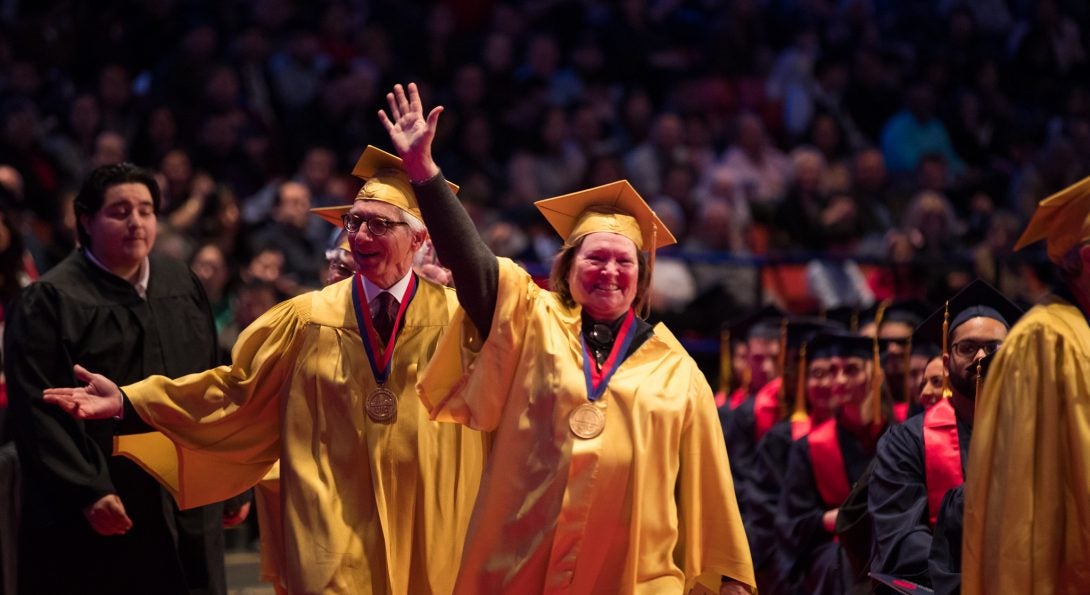 We are delighted to welcome the Class of 1969 alumni Golden Graduates back to campus! Please join the UIC Alumni Association, with Chancellor Michael Amiridis, for the fall 2019 commencement ceremony and a 50th anniversary graduation celebration on December 14.
Event Schedule
9:30 a.m.     
Now and Then Presentation: Celebrating the Class of 1969 and Campus Tour
Student Center East, Cardinal Room
11:30 a.m.          
Luncheon
Student Services Building (ABC)
12:45 p.m.
Transition to Credit Union 1 Arena
After lunch, you will change into your golden gowns, pose for photos, and then you and your guest will walk across the street to the Credit Union 1 Arena (formerly the UIC Pavilion) for the Commencement ceremony.  You will process into the ceremony with the 2019 graduates, be honored by University leadership near the beginning of the ceremony, and then process out. At that point, you may take the bus back to the parking lot or you may sit with your guests and enjoy the rest of the ceremony.
2:00 p.m.    
Undergraduate Commencement ceremony
Credit Union 1 Arena
2:45 p.m.  
First Bus Back to Parking Lot
Halsted Street Parking Structure
4:45 p.m.        
Last Bus Back to Parking Lot
Halsted Street Parking Structure
Additional Ceremony Information
Special reserved seating will be available at the Credit Union 1 Arena for all Golden Graduates and their guests. Additional guest tickets are available for the Commencement ceremony ONLY.  Please indicate the number additional tickets you will need on the RSVP form.
Parking Information
Halsted Street Parking Structure
760 West Taylor Street
Chicago, Illinois 60607
When you arrive at the parking garage, take a ticket and keep it with you. Parking passes will be available at registration. When you leave the parking garage, please turn in the ticket and the complimentary pass to the parking attendance. Buses will run between Student Center East (SCE) (formerly Chicago Circle Center) and the ceremony location.
RSVP